Tropical gothic roof multi-span G-9'60-KS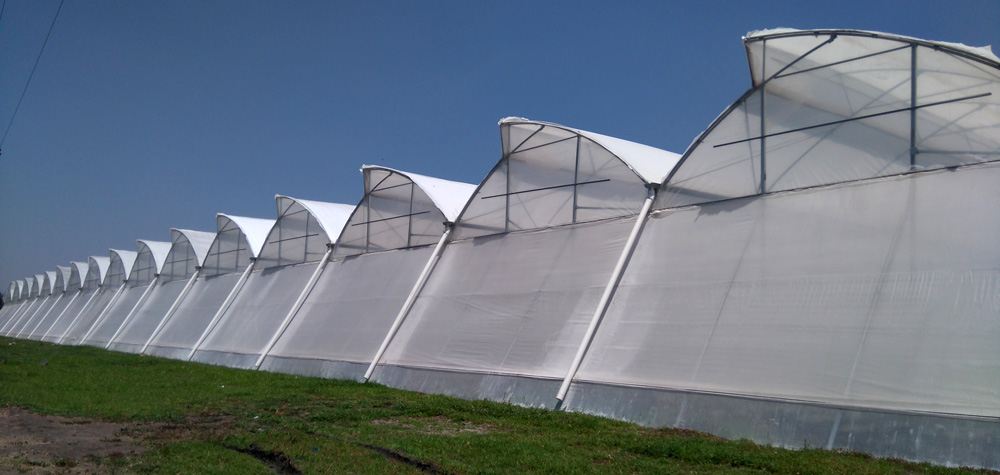 Outside view of the Tropical Gothic roof G-9'60-KS
The G-9'60-KS greenhouse model was specially designed for crop protection in tropical climates, characterized by high temperatures and a high percentage of relative humidity (Kenya, Ethiopia, Colombia, Mexico, etc.). To avoid excessive concentration of high temperatures and humidity in the crop area, this greenhouse is equipped with fixed zenith openings (1 sided) in all the spans, and fixed openings in fronts and sides.
This model differs from traditional G-9'60 Gothic model in the following aspects:
Inclined side walls (better wind resistance). As optional inclined front walls.
Modulation of 4 m (arches and central pillars placed each 4m, side pillars and inside diagonal-post reinforcements placed every 2m).
1 sided fixed opening with insect-proof net covering in all roofs (as optional roll-up window with film covering).
Fixed opening with insect-proof net covering in all perimeter (as optional roll-up window with film covering).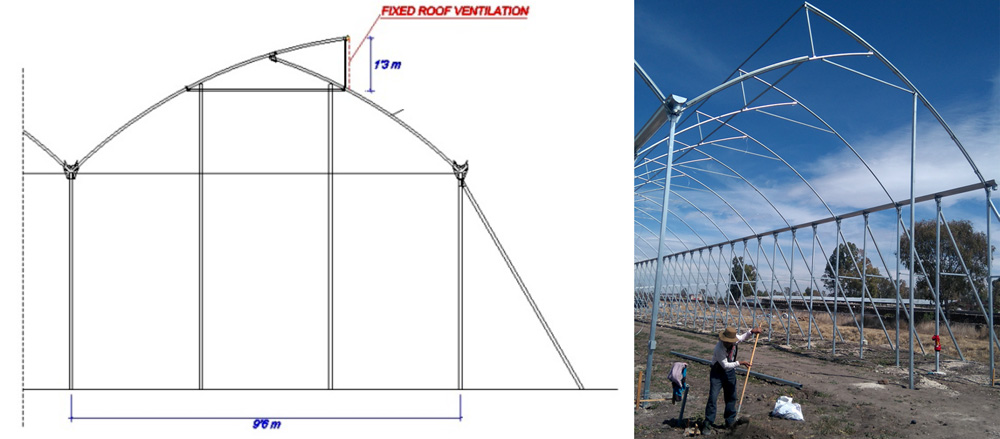 Detail of the fixed roof opening in the G–9'60–KS model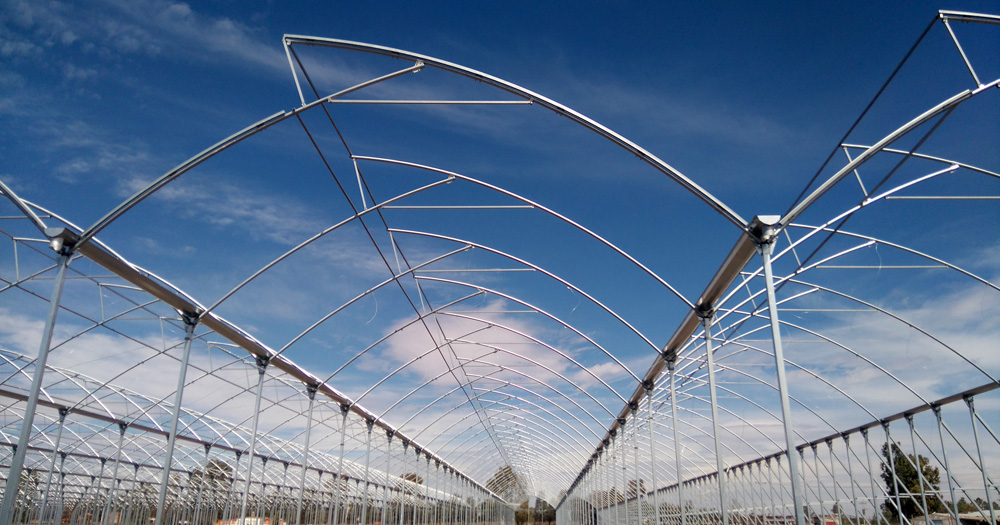 Accesses to the greenhouse are resolved through outside ante-chambers with double entrance door and insect-proof net covering, giving to the greenhouse a 100% sanitary protection against pests that may come from outside.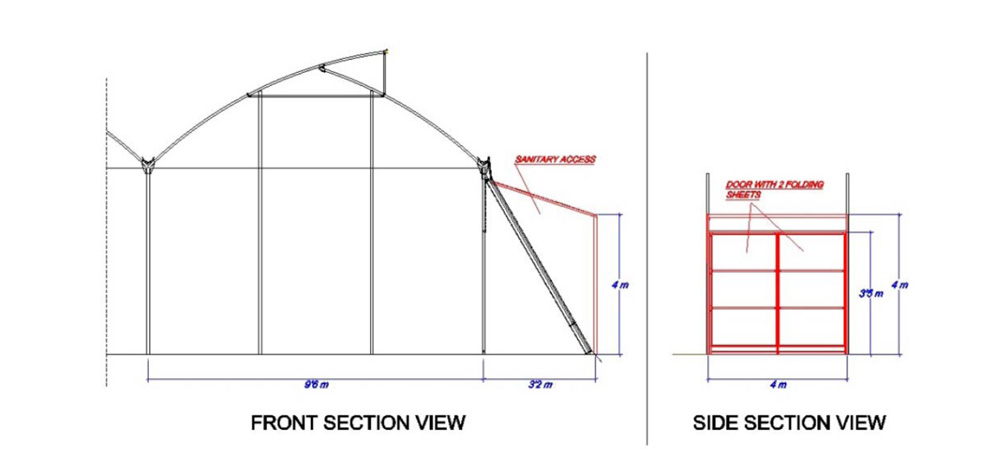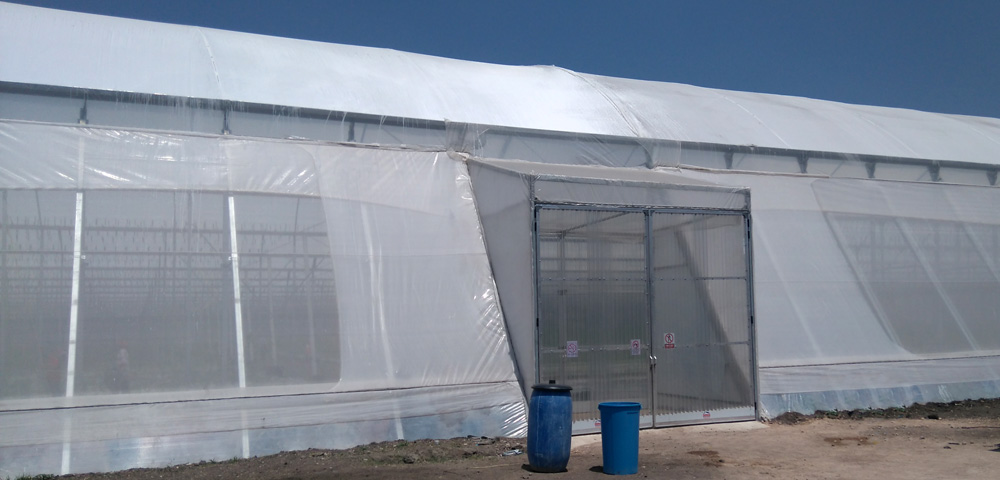 Front and side view of an Access ante-chamber to the greenhouse
The Tropical G-9'60-KS greenhouse model is available in 2 different types, depending of if a suspended crop is required or not:
For non-suspended crops: G-9'60×4-KS model (the standard one).
For suspended crops: G-9'60×4-KSR model (Reinforced model, with larger section pillars, larger section in diagonal-post reinforcements, and thicker drainage gutters).
In the standard Tropical G-9'60 model, the arches and the central pillars are placed every 4 m, and pillars every 2 m in both side-walls. This model is designed equipped with a diagonal posts placed by the outside part of both side walls in front of each side pillar, which are reinforcing the strength of the structure against the wind loads. Despite having inclined side walls, no space is lost for the cultivation because crop lines can be placed in the clearance between the diagonal-post and the vertical pillar.


Outside detail and inside view of the diagonal-post of the side walls in the G–9'60×4-KS model
If roll-up windows are placed on roofs and / or perimeter, the opening and closing system can be done manually or motorized way, depending on customer needs or availability of electricity on the building site.


Detail of the roof Windows and perimeter Windows in the G‐9'60‐KS model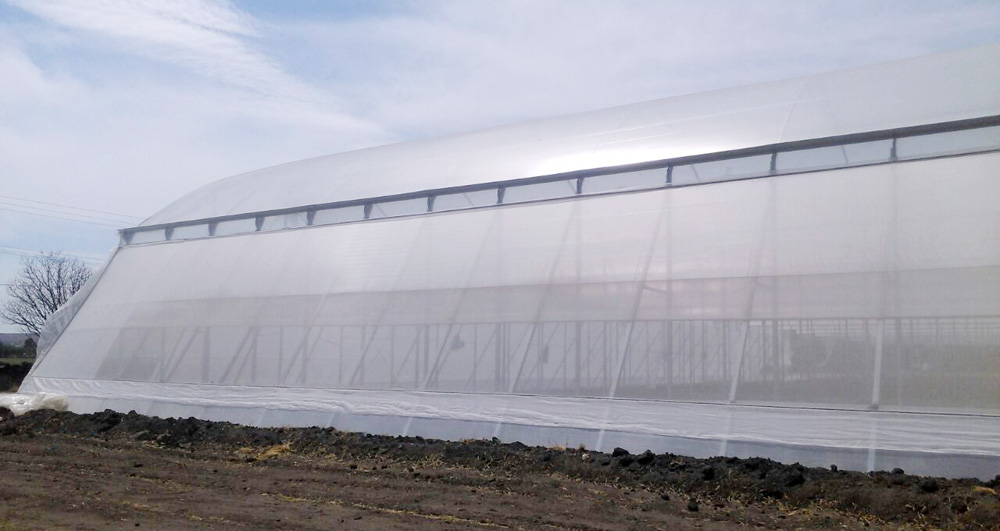 You could be also interested in the other greenhouse models by ININSA: