Automation and climate control are indispensable nowadays for any high-tech greenhouse intended for intensive agricultural production, since it is a vital aspect to get crops with high quality and productivity.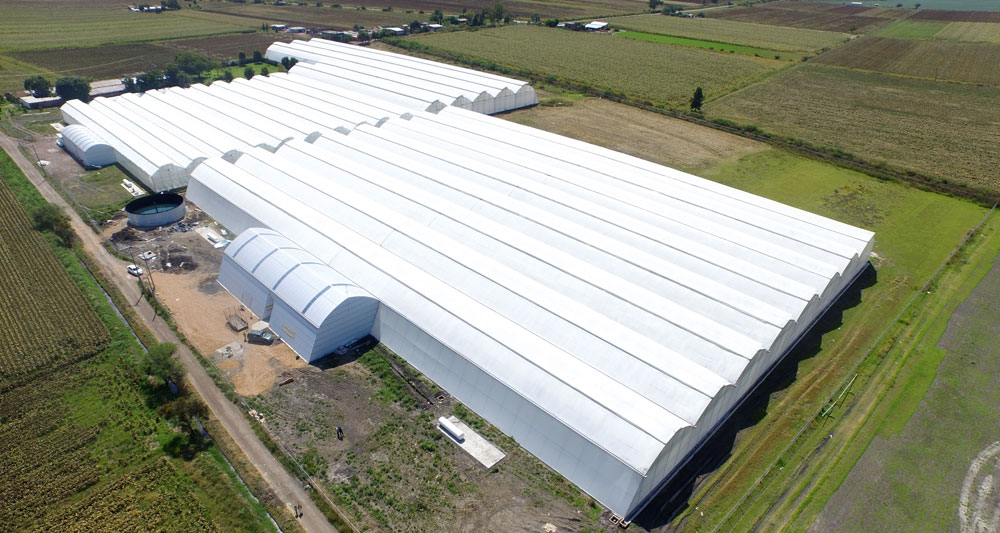 Outside view of ININSA high-tech greenhouse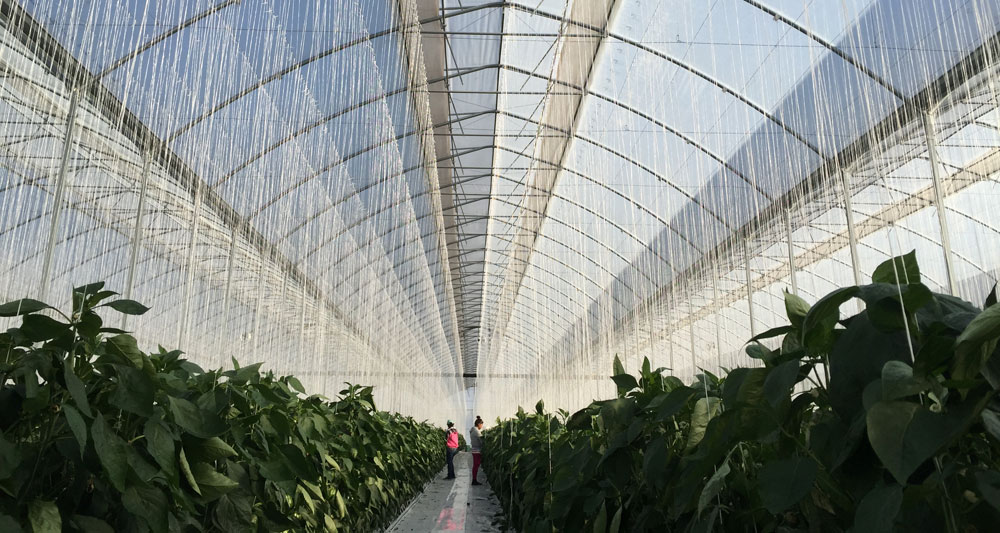 Inside view of ININSA high-tech greenhouse
The climate control devices are essential to carry out the integral management of all elements involved in greenhouses's climate control in a completely automated way (ventilations, screen shading / energy saving, double inflatable chamber, recirculating air fans, heating, humidification, CO2 dosing), and even to program the control of the irrigation and fertilization depending on weather conditions inside the crop greenhouse.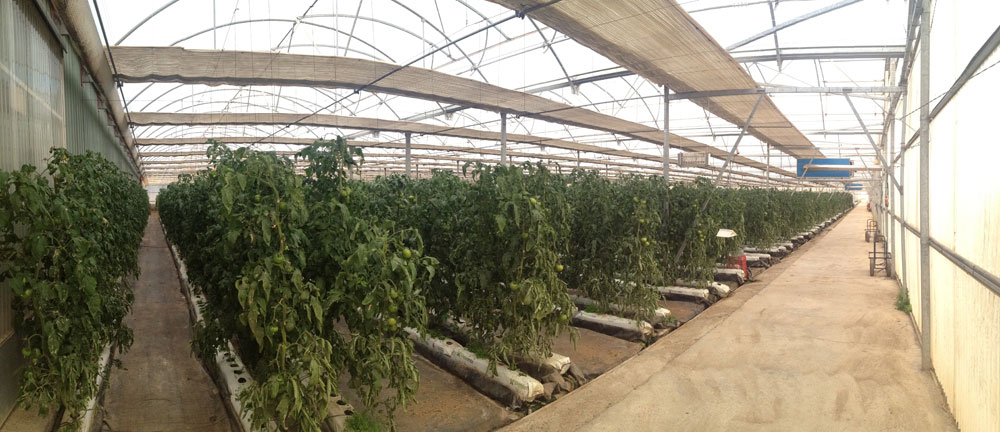 Inside view of ININSA high-tech greenhouse with screen system and air heating
The climate control can be performed depending on the particular needs of each project, and can be supplied: 1)from a basic range device for the climatic control only by the windows (for temperature, wind speed or rain); 2)through an medium range device as our ININSACLIM® model (able to control the windows, screen, inflation fans, recirculation fans, humidification, and heating on/off); 3)to a high range climate control device capable of performing a total climate control of several independent crop areas by the same device, realized through a PC computer with remote access control via internet connection, which is integrating all the greenhouse equipment (windows, screens, inflation fans, recirculation fans, humidification, heating, irrigation, etc.).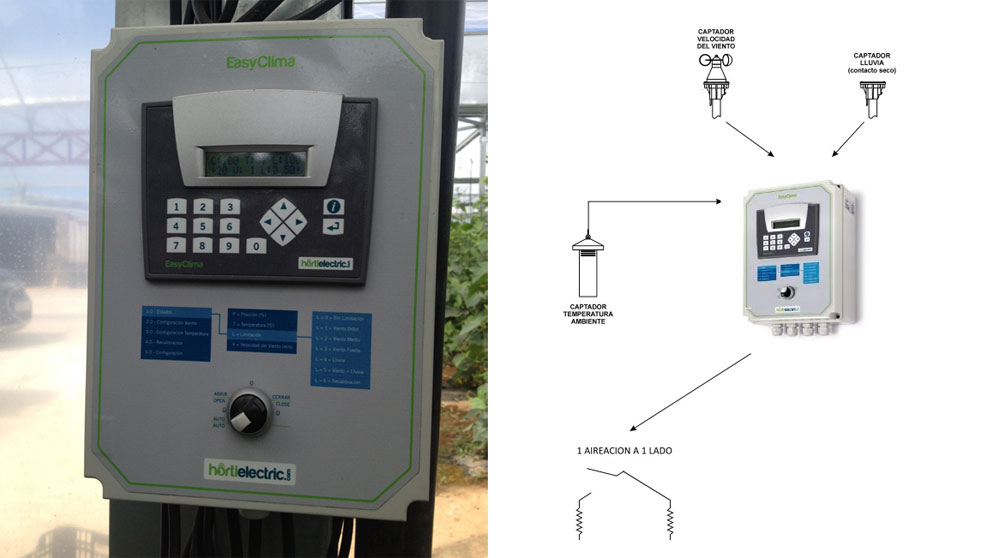 Basic range device for climate control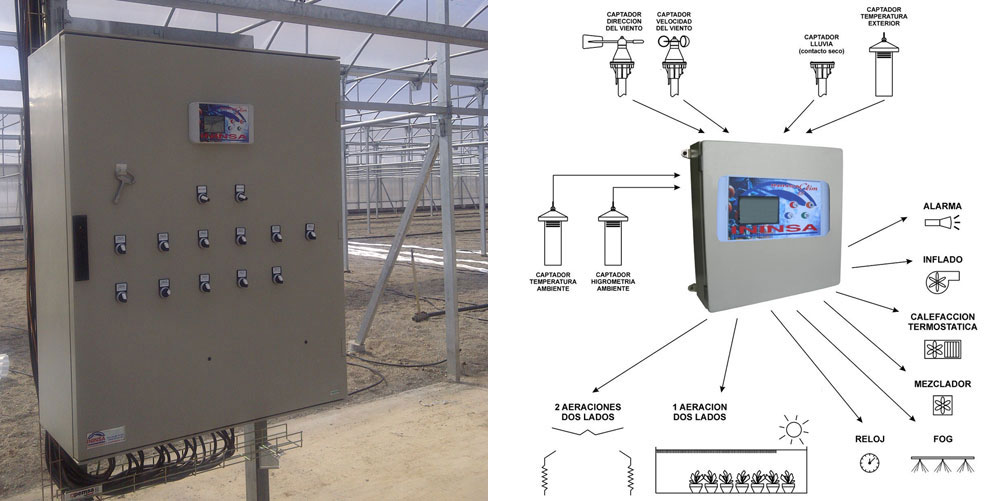 Medium range device for climate control


High range PC device for climate control
Reading and control of the external climatic conditions (temperature, relative humidity, wind speed, wind direction, and presence of rain) is performed via the sensors mounted on a weather station placed on the roof of the greenhouse, while reading and control of the indoor climatic conditions in the crop area is done by strategically distributed sensors as climate compartments designed on each project (Temperature, Relative Humidity, Radiation / Lightness, pH and EC).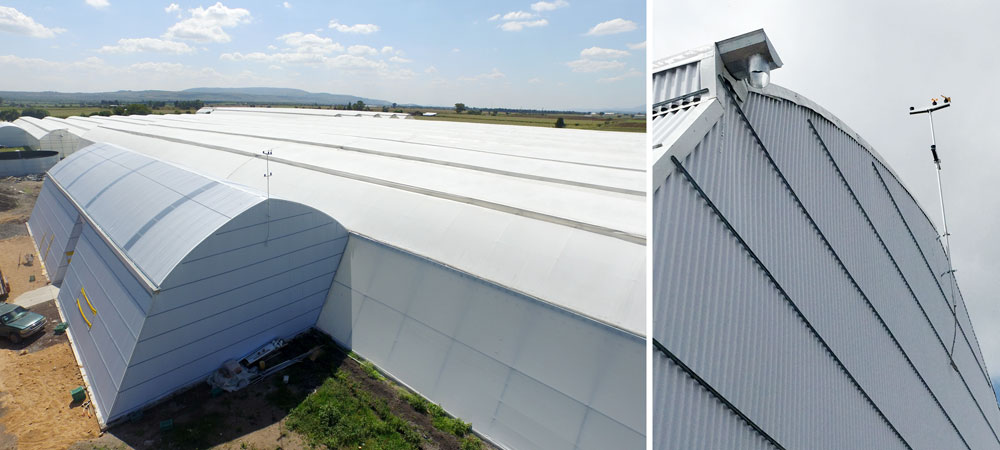 Detail of the outside weather station in an ININSA greenhouse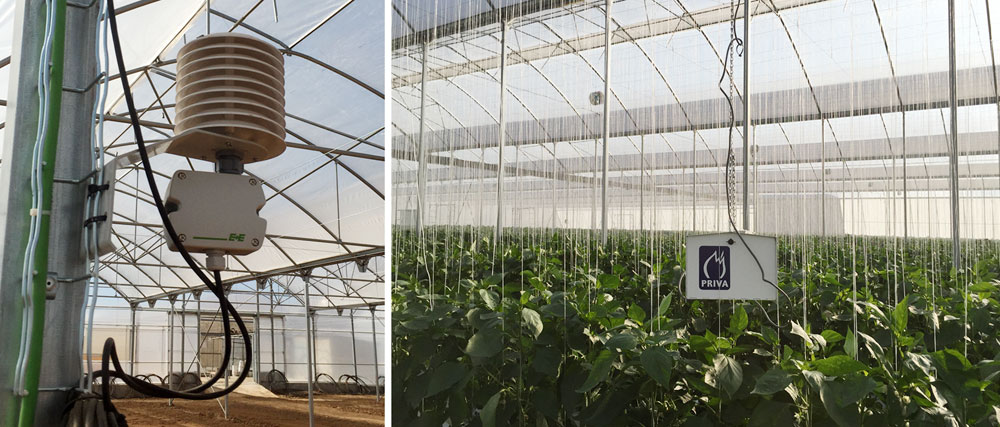 Detail of the indoor sensors in the crop area
As for the protection and automation switchboards, we can supply two different systems: centralized or decentralized system. In the centralized system, the protections and automation of all electrical control elements (motors, fans, etc.) are integrated in a main control switchboard, and wiring is performed in parallel way (is placed individual wiring from each element to the main control switchboard). Instead, in the decentralized system are installed individual protection boxes (power boxes) per each element which has to be controlled, and these individual power boxes are installed near each element to be controlled, making the electrical wiring in series way between each individual power boxes and even to the main distribution and protection switchboard.
The electrical wiring can be supplied from ININSA or be purchased at site by the customer following our indications as to the types and sections of the appropriate cables per each element.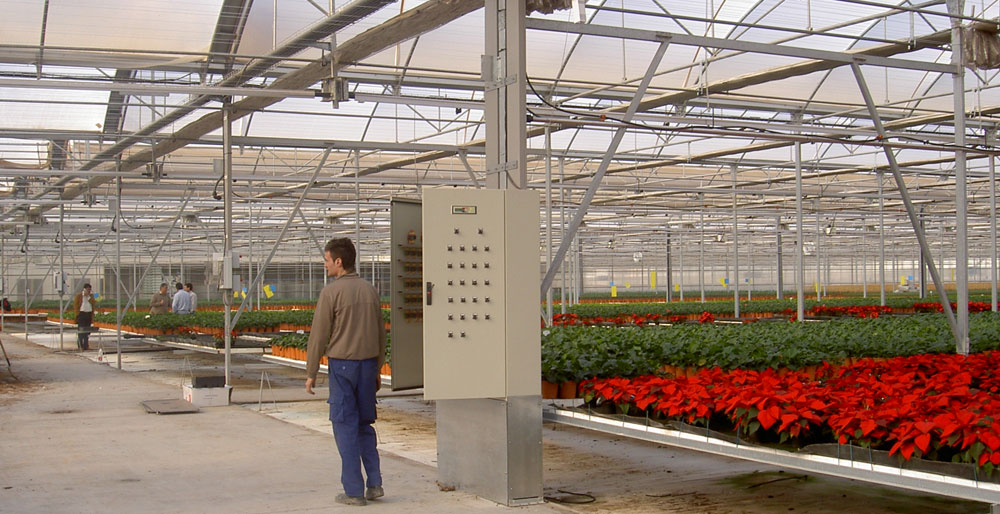 Detail of a centralized main control switchboard


Detail of decentralized control boxes and general switchboard system