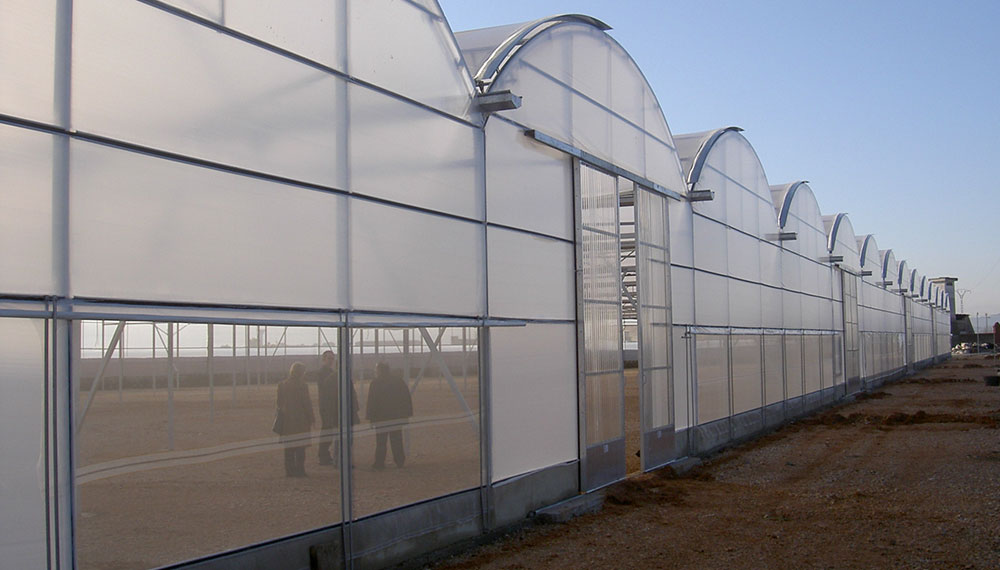 We offer a wide range of Curved roof multi-span greenhouses, from 6'40 to 10m wide per bay:


ININSA greenhouses measures
The Curved roof multi-span model stands out for its versatility and adaptability for every crop production or surface both ornamental and horticultural. This greenhouse model confers a comfortable work in as well as more profitable space to cultivate due to its wide open bays.
The dimensions of drain gutter, which are placed in all pillar's lines (both inside and outside), allows a large water evacuation as well as facilitating the movement of workers in order to carry out a better roof maintenance.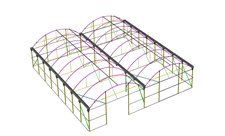 We offer two Curved roof multi-span models depending on the separation between inner pillars, 4 and 5m respectively (and multiples). On the 5m module, the separation measurement between outer pillars is 2'5m; on the second one, the inner separation measures 4m and the outer separation 2m.
In relation to the pillar height, we can design the greenhouse according to customer needs (use of the greenhouse, type of crop, climatic area, etc.) because we have a wide range of pillars to allow greenhouse's heights from 3m. The ridge pole total height differs from the bay width chosen, so we can increase 1'30m if you choose the P-6'40 model and 2'20m if you prefer the P-10 model.
Ventilation could be installed in the roof (zenithal windows) and in the perimeter (lateral and/or frontal).
We offer several types of zenithal ventilation: 30% roof opening (simple super-zenithal model); 45% (double super-zenithal model) or 50% (half arch to the drain gutter model). The turning point of zenithal ventilation is located on the ridge of the roof and it works through a rack and pinion gear system, being installed every 2m on the 4m module or every 2'5m on the 5m module. The zenithal window could be opened in a manual or motorized way, and the motorized one can be automated and controlled by a manual electrical switchboard or by our ININSACLIM® climatic control switchboard, from which several models are available according to crop requirements, or customer needs.
In reference to lateral and frontal ventilation, there are several models according to the cultivation requirements and greenhouse covering materials (plastic film or rigid sheet). On the one hand, the roll-up window for plastic film coverings, in which the film is rolled by a longitudinal bar movement mechanism, allows opening and closing sides of both partial and total form. On the other hand, there are 2 types of windows installed in the perimeter for rigid coverings available: "folding type" and "guillotine type" both of them with a rack and pinion gear system. All of them are provided with manual or motorized opening and the possibility of motorize and automate like zenithal ventilation.


Zenithal windows models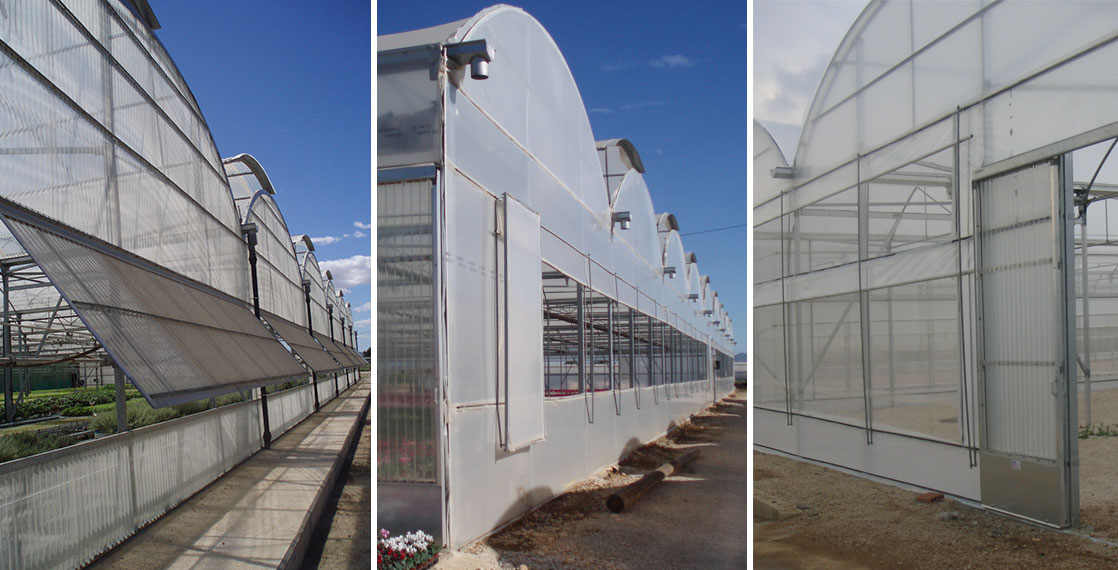 Several options for frontal windows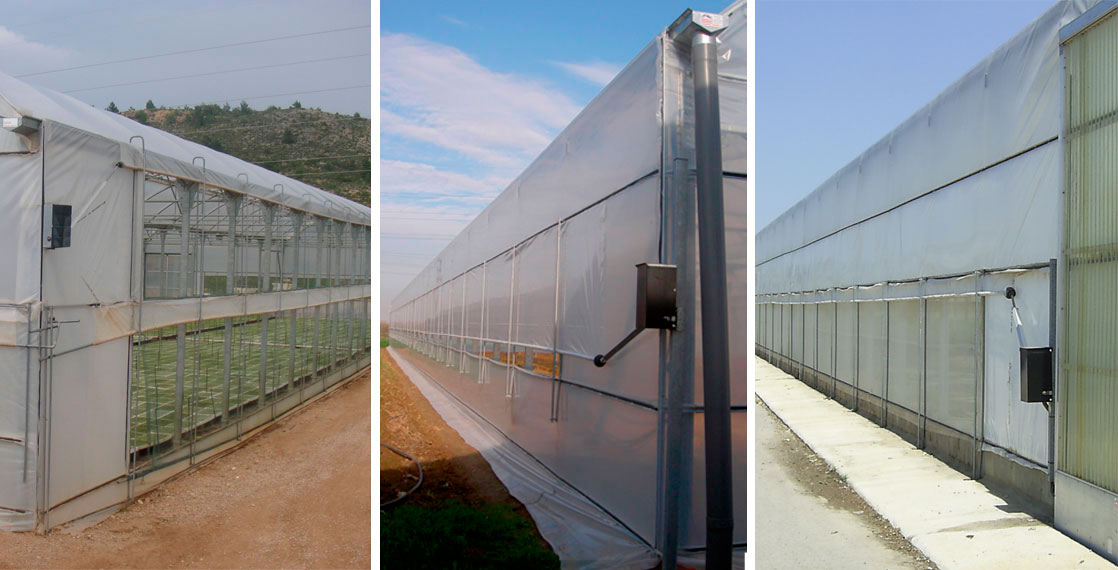 Several options for lateral windows
Several types of covering materials are provided by ININSA, from flexible tri-layer plastic film, shade/monofilament net to rigid PVC sheet or Polycarbonate, depending on the cultivation needs. ININSA has the unique and patented fixing system for film and net covering, made by a polyethylene tubular pipe and stainless steel safety cramps that facilitates the fast and easy installation and later replacement of covering materials, as a permanent durability is guaranteed. The PVC or Polycarbonate sheets are fixed to the structure with sealing-screws. We could also install a pre-lacquered sheet metal panel or "sandwich panel" to build an office, warehouse, cold store or other uses.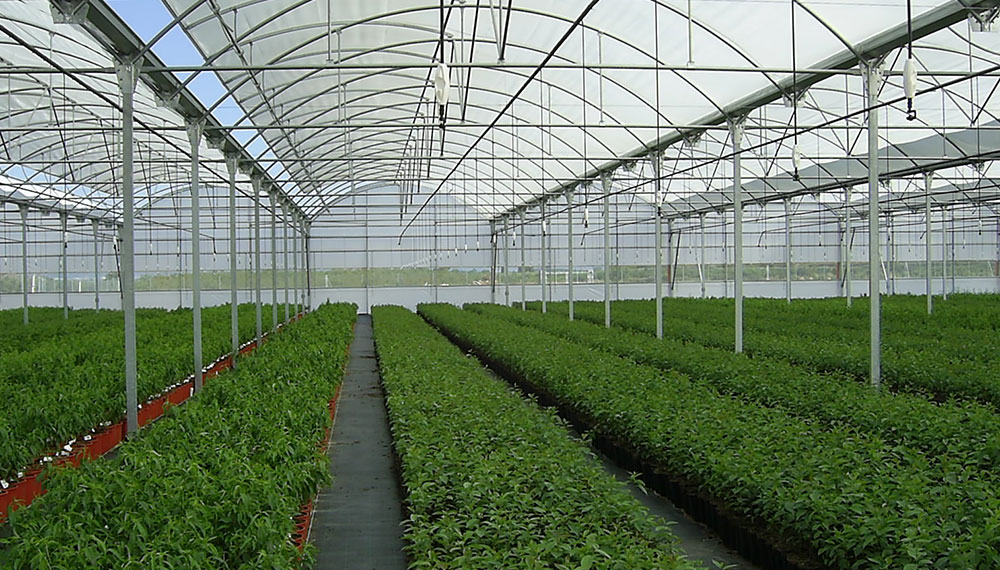 You could be also interested in the other greenhouse models by ININSA: