Extra-wide gothic roof multi-span 12'80


Outside view of the "G–12'80×3" Extra-Wide model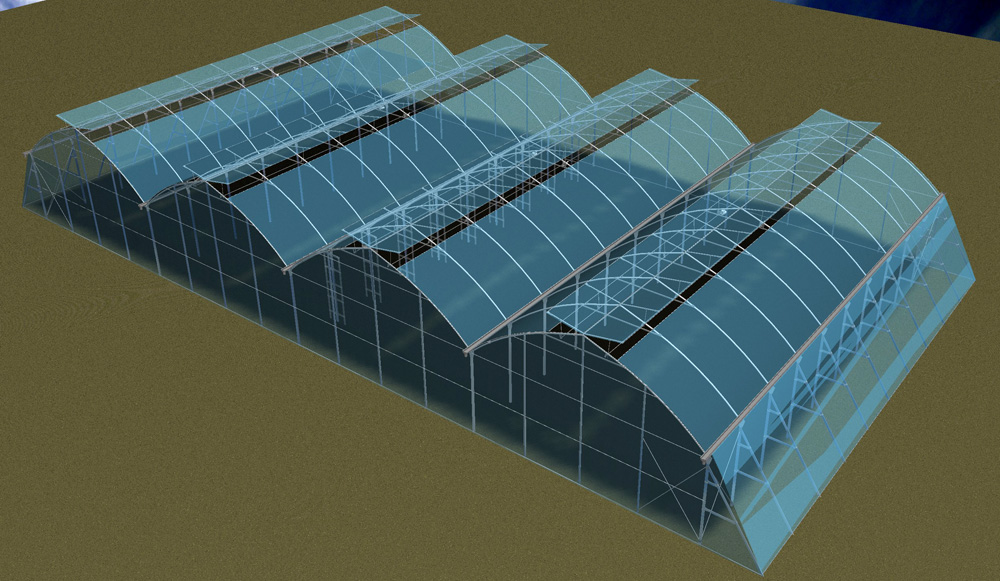 Render view of the "G–12'80×3" Extra-Wide model
The new greenhouse model G-12'80 was developed by the ININSA I+D+I Department, and has been created in response to our customers upon request for a model with crop greater volume (better thermal inertia) and a larger working space by the crop area to facilitate their crop labors.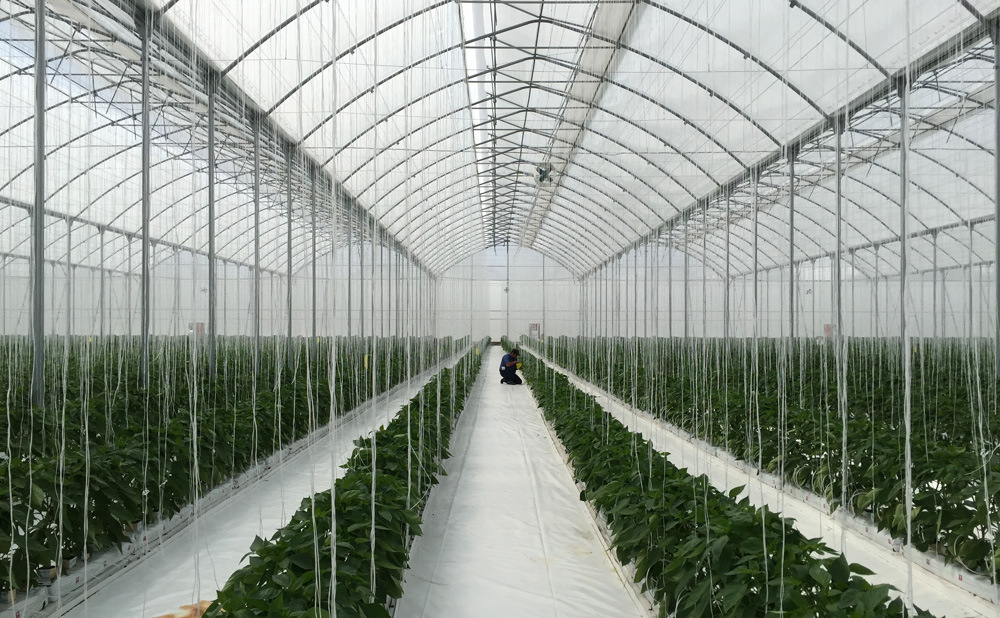 Indoor view of the G–12'80×3 greenhouse model


Indoor view of the G–12'80×3 greenhouse model
This new G-12'80 model differs from the traditional G-9'60 model in the following aspects:
Increased work space (lines of pillars placed each 12'80m instead of 9'60m).
Increased brightness (less structural shadows on the crop, less pillars and gutters lines/sqm).
Increased indoor air volume (ridge at 3'40 m vs 2'60m in G-9'60).
Better climate control.
Better thermal inertia (greater energy savings).

Indoor view of the G–12'80×3 greenhouse model
The G-12'80 greenhouse is available in 2 different models, depending on weather conditions at the building site (wind and snow load) and the crop load required:
For moderate climates (without snow load) with inclined side walls (G-12'80×3).
For more strong climates (with snow load): with reinforced crop trusses for crop load "M" type or "W" type (G-12'80×2'50-RW / RM).


G–12'80×3 greenhouse model
In the standard model with inclined side walls, the arches and pillars are placed every 3 m in all gutter lines (sidelines and in the central lines). This model is designed equipped with a diagonal posts placed by the outside part of both side walls in front of each side pillar, which are reinforcing the strength of the structure against the wind loads. Despite having inclined side walls, no space is lost for the cultivation because crop lines can be placed in the clearance between the diagonal-post and the vertical pillar.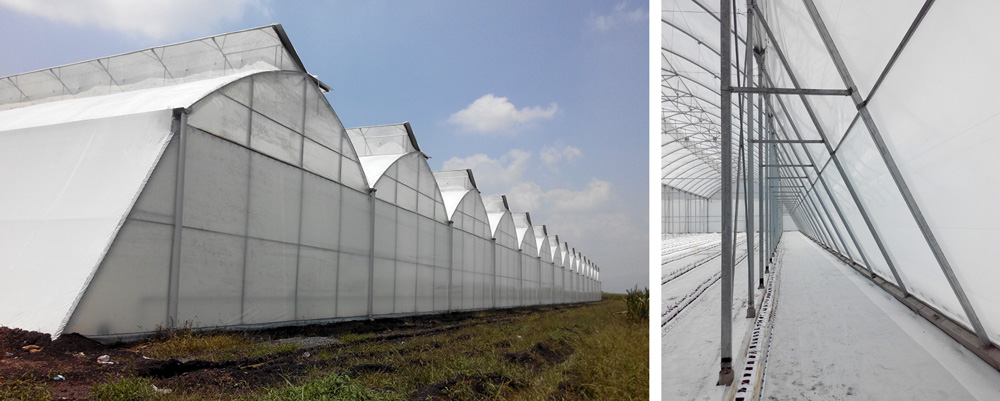 Outside view and inside detail of the diagonal-post of the side walls in the G–12'80×3 model
The reinforced model (G-12'80×2'5-RW / RM) is designed for more demanding climates, and differs from the standard G-12'80×3 model in 3 points: the arches are placed every 2'50m instead of 3m, the pillars are placed every 2'50m instead of 3m (all lines, laterals and centrals), and reinforced crop trusses ("W" type or "M" type, depending of both snow and crop loads), being able to be placed every 5m or every 2'50m according to the project requirements.


G-12'80-RW model – G-12'80-RM model
As for the zenithal windows, it can be equipped with single super-zenith ventilation (1 side) or double butterfly ventilation (at 2 sides).
As for the perimeter ventilations, coverings and other equipment, the G-12'80 Gothic model can be supplied with the same equipment as described for the multi-span curved/gothic roof models.
You could be also interested in the other greenhouse models by ININSA: